Don't Throw Money Away! Use Van Shelving

Ever feel like your technicians are throwing your money away? Well if you don't have our Vehicle Managed Inventory System than you are giving your technicians a blank check from your company. They can destroy and throw more stuff away some days. That is why we made this custom aluminum van shelving system. We know there are a lot of other shelving systems out there but none of them are specifically designed for electricians by electricians. This way, you can have go on a service call and have the right material with you at all times.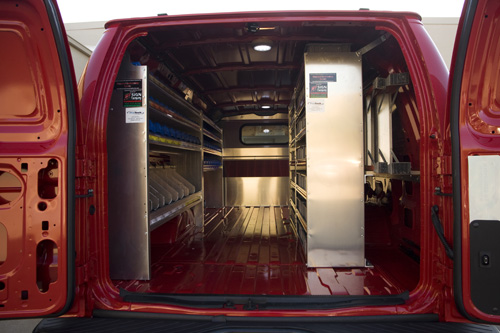 We also took in to account that you can buy a big box truck or LCF and have twice the money invested into the truck and not get the same return on investment. We figure you can almost buy 2 extended vans for the price of one LCF or Sprinter style truck. Our technicians actually prefer the vans for ease of driving around, parking, and getting in and out of. The extra room in a box truck is usually taken up by ladders that can be put on top of the truck. In a LCF or Sprinter you have to spend a fortune to put ladders outside of the vehicle or just not have access to them. All trucks are the same with specific parts locations and quantities. We also have the secret recipe of using your smart phone to log in to your inventory software. You will be able to know the inventory quantities on your truck and you are able to restock when you run out. This will save you a trip to the wholesale house looking for a switch that you thought was on the truck, but wasn't. Make sure that you are making money on all those little jobs instead of wasting time at the parts wholesale house. Technicians are suppose to do production, not eat donuts at the supply house waiting for the order to get filled.
Van shelving is an incredible asset that will help you make more money.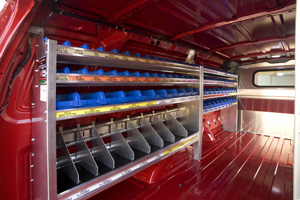 Regular Van
Licensed for 3 Vans
Fits GM & Ford
Custom Layout Book With Inventory Barcodes
Compatible With Dispatch Software
Track Inventory Through Mobile or Software
Bins and Containers
Color Coded
20% More Space
Buy
Extended Van
Licensed for 3 Vans
Fits GM & Ford
Custom Layout Book With Inventory Barcodes
Compatible With Dispatch Software
Track Inventory Through Mobile or Software
Bins and Containers
Color Coded
20% More Space
Buy